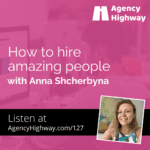 This is an absolute beast of an episode. Anna Shcherbyna from Remotivate joins the show to share a start-to-finish playbook on how to hire amazing employees.
The conversation covers where to go to find people and all the steps to go through to make sure they're a great fit before you hire them.
Resources mentioned in the episode
Connect with Anna
About Anna
For the past 9 years, I've been working in Operations and Recruitment for both major companies and remote businesses.
Currently, I run a recruitment agency that helps remote-friendly companies hire top remote talent via an affordable done-for-you service.
I am originally from Ukraine but am currently location independent and travel the world.