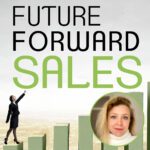 Here at Future Forward Sales, we are committed to helping you reach new heights in your sales success. That's why we do the Future Forward Sales podcast – each episode is an opportunity to learn from another business leader's journey and success.
In this episode, we had the pleasure of speaking with Anna Shcherbyna, Founder and CEO of Remotivate LLC. Anna is passionate about helping businesses find their perfect candidates for remote positions. Using her eight years of experience in recruitment, operations, and management, Anna built Remotivate as a service to save companies from the drudgery of recruiting employees. Anna and her team find highly qualified prospective employees, take care of the communication with them during the hiring process, arrange interviews, and conduct reference checks. They pass on between one and five ideal candidates, saving their clients tons of time and frustration.
How did Anna build a successful recruitment company? To find out, we asked Anna
How she got into recruitment and created Remotivate;
How she creates fresh opportunities to best serve her clients;
How she leverages her flexibility to think outside the box;
What her ingredients are for her "secret sauce" that sets her apart from the competition;
Where she sees Remotivate in the future and how she will make that future come true; and
What she is most passionate about.